It's been a very busy few months at Home-Start Ashford & District and we're very excited to announce that we have recruited a new Co-ordinator to support families and volunteers.
Jane will start in July and is looking forward to meeting as many of you as possible over the summer. We're really excited to bring our team up to 5 staff members now which means we will be able to support additional families and volunteers over the next year. Welcome to Home-Start Ashford, Jane!
Fundraising activities have also been successful and in May one of our previous 'Chill with Dad' participants impressively completed The London Marathon in aid of Home-Start Ashford raising over £500 in the process. It was very emotional finish for Mark and his team of followers so Thank you for your amazing effort and achievement. We're very proud of you.
We were also successful in gaining £500 from the Police Lost Property Fund.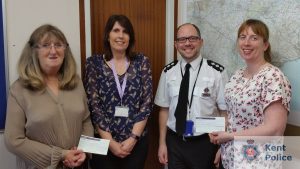 In June we enjoyed a volunteer get together to celebrate 'National Volunteers Week' enhanced by plenty of tea and cake! Enid received a 'Long Service Award' for 13 years of service to Home-Start Ashford; – a lovely way to acknowledge and thank her for her energy and commitment to the many families she has supported over the years. We were also joined by Jackie, Manager of The Co-op in Kennington, who has helped to raise in excess of £1,200 this year through The Local Community Fund.

Families and volunteers have been busy too, participating in the regular training and events offered at Home-Start including a sessions such as 'Mindfulness', 'Tea-Time fun' , 'Kid's Safety' and 'Circus Skills'. We have plenty of fun, educational activities planned for the summer months so if you are involved with us please give us a call to find out more. All of our training and activities are free.

We have just completed our 'Preparation Course' for volunteers who are now trained and ready to be matched with a local family to support. We will be running the next course in September 2017. If you are interested please call to find out about the application process.
HAVE A GREAT SUMMER