Home-Start Ashford & District have enjoyed a very busy end of 2016 with lots celebrated!
We had donations of presents for the families and children from Tesco, the Zion Baptist Church in Tenterden and the Hythe, Romney Marsh and Ashford Lions Club gave us food vouchers for families.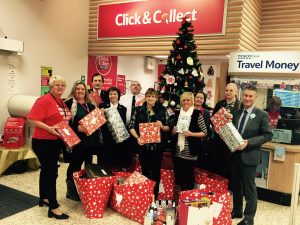 An exciting trip was had around Willesborough on Santa's Sleigh and the Ashford Lions Club, we were given half of the takings from this evening which gave us £275!  Lots of families gave generously with notes and coins and the evening was lovely and dry but very cold! It was so nice to see the roads lined with families and children all getting into the Christmas spirit.
We also organised a Grand Christmas Prize Draw which was drawn at our Volunteer Christmas Lunch at Pizza Express in Ashford.  This draw raised £826, we had amazing prizes donated such as a Glider Flight, Amazon Vouchers, Legoland Family Ticket and many more.  Edward Lockett, organiser of Ashford's Festival in the Park and 'Webbo' from Ashford Radio made an appearance and drew the raffle for us on the day.
Home-Start families enjoyed a Christmas Party at Sandyacres Sports and Social Club hosted by the Earlybird Rotary Club of Ashford.  A great DJ and music was provided and a lovely buffet for all.  A visit from Santa made it extra special for the children too.  The evening was a great success and thoroughly enjoyed by all.
We were lucky enough to be one of the nominated charities by Waitrose in Ashford and Tenterden raising an amazing £661 for us to support more home visiting.
Our year long Smarties challenge was also popular with families, volunteers,  staff and friends filling smarties tubes with 20p coins.  This raised us a healthy £396!
Our Chill with Dad, 'Dads', enjoyed their Christmas Dinner at The Harvester giving them an opportunity to chat about the excitement of Christmas with young children. They also had the chance to go to the 'panto', Christmas Tales with Grandad with their children at the Quarterhouse in Folkestone. As always this is a really enjoyable outing to finish the year.