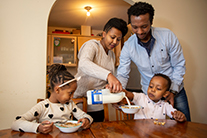 Any family facing difficulty with at least one child under the age of 5 can request Home-Start Ashford & District & District's support.
Support; through difficult times either one to one or in a group setting tailored to a families' needs.
Flexibility; you decide when the support will happen and how you will use it.
Understanding; Home-Start Ashford & District team members usually have experience of being a parent, they will be empathetic, non-judgemental and use their own knowledge and skills to support you.
Reassurance; all parents sometimes feel overwhelmed, but you are not alone, bringing up a young family is challenging.
An extra pair of hands; a trip to the park or help with the shopping, attending appointments or relevant groups is made easier with more hands.
Choice; you can choose whether to accept Home-Start Ashford & District support or not every step of the way.