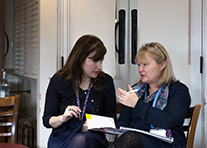 With the permission of the family, referrals to Home-Start Ashford & District can be made by anyone, including the family themselves. While practical help may form a big part of a family's support it is well to remember that we do not offer babysitting or domestic help.
Once a referral has been received by Home-Start Ashford & District families will usually be visited within 2 weeks. A member of staff will visit the family to discuss their needs and to help them choose the right support for them. Some parts of our service will be available to families immediately, whilst there may be a little wait to access their home visiting support.
Staff will conduct regular reviews with families and keep them, along with referrers, updated throughout their time with Home-Start Ashford & District.
Referrals are taken electronically on: using this form