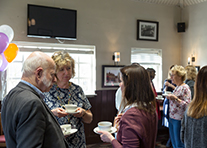 Family life is difficult and challenging for many parents, carers and children and issues such as disability, mental illness, social isolation, bereavement and relationship breakdown can have a profoundly detrimental effect on families.
With your support, Home-Start Ashford & District can help parents to do their best for their children at crucial times in their lives 'because childhood can't wait'.
Home-Start Ashford & District is able to carry out its work with children and families with the financial support of The Community Fund and other national and local charitable trusts and donors.
We continue to develop the services we offer to families and new funding opportunities that support the work we do. Families and volunteers are integral to the development and design of new services.
For more details on how to support us, please contact Home-Start Ashford & District on 01233 647209.